Jonathan M Clark
Problem Solver
Math Enthusiast
Parachute Rigger
Pilot
U.S. Citizen
==========================================
The Ethos
==========================================
Capable, charismatic and eloquent.
I seek to bear the maximum amount of responsibility that I can reliably carry. I love to learn and I love to read. I like to take advantage of online educational resources. I'm an avid do-it-yourselfer, continually looking to increase my level of competence, continue my education and teach myself new things. I like to build things. I especially love to work with processes and complex systems. I love problem solving, engineering, critical/analytical thinking and working with abstract ideas. I love to understand how things work. I like achieving difficult things. I frame the problems that I face at work and in life as a series of challenges to overcome. Directly tackling such challenges head on tends to be an effective method in producing great results. I love being productive with my time and efforts. I take pride in a job well done.
==========================================
The Activities
==========================================
Pilot, Parachute Rigger, Math Enthusiast, Programmer and Master of Organization.
Among other things, I'm a parachute rigger, an airplane pilot and currently, a job seeker. I've been a newsletter editor, a webmaster, and a point-of-sale wizard. I've delivered world class customer service. I have experience stretching barbed-wire fences and operating farm equipment. I've skydived more than three hundred times. I earned my Bachelor of Science Degree in Chemistry from Western Washington University. I kept honeybees for more than a decade. More recently, I've started exploring the world of coding, programming and website design. I'm interested in expanding my mathematical abilities and knowledge. I find science, technology, engineering and mathematics topics fascinating. It would not be a surprise to find that I am also intrigued by aerospace engineering, chemical engineering, process automation technologies, information technology, finance, business admin and operations management. The shelves in my study are thoughtfully filled with books covering a wide variety of topics. Having an active lifestyle is important to me. I love cold weather. My recreational interests include reading books, flying airplanes, skydiving, hiking in the great outdoors, cycling, kayaking, beekeeping, photography, chess, and mind puzzles of all sorts.
Curriculum Vitae
Current Activities and Skills
Job Seeker
Skilled Labor/Leader
I am seeking a new place to solve problems, overcome challenges, and inspire others in the pursuit of better things.
Para-Phernalia, Inc.
Senior Parachute Rigger
Para-Phernalia (Softie Parachutes)
I professionally manufacture, pack, repair and maintain high-quality emergency parachute systems. I am a highly skilled industrial sewing machine operator. I have manufactured hundreds of parachute systems over the years. I can flatwork, tape, bartack, set grommets and assemble harnesses with the best of them. I am an FAA certified Senior Parachute Rigger with both Back and Seat type ratings. Also, I built the current website (launched June 2020).
Leadership and Operations Management
Highly organized
Excellent prioritization ability
Excellent time management skills
Solid project management skills
Exceptional communication skills
I place a high value on clear communication channels
Willing to travel
Thrives in a team environment
Problem-solver
Innovator
Strong, objective reasoning skills
Charisma
I bring a forward-moving enthusiasm and focus to the team that is contagious.
Friendly, animated, energetic, and confident.
I place a high value on honesty.
Flexible and adaptable.
Conflict resolution skills.
Excellent listener.
Dangerously articulate.
Work Ethic
Reliable and dependable
Responsible and conscientious
Attentive to detail, but able to appreciate the big picture.
I work hard, but I also work smart; ever looking for better ways of doing things.
I constantly seek to excel at what I do.
I actively seek out ways to increase my involvement and capabilities within the organizations that I join.
Computer Skills
Website content development and management
HTML/CSS & PHP/SQL
Point of Sale (POS) operation, reporting and system manager expert
Familiar with Windows OS; starting to learn Linux via Rasp Pi projects
Capable with Microsoft Office (Word, Excel, Powerpoint, Publisher, etc.)
Technical writing skills (Including SOPs, policy manuals, instructional manuals, posters, flyers, newsletters, etc.)
Graphic design skills
Trade Skills
Highly skilled industrial sewing machine operator
Operator: Dozer, farm tractor, excavator, backhoe, roto-tiller, small aviation tug, etc.
Shop Tools: Table saw, band saw, drill, drill-press, hammer, grinder, chainsaw, arc welder, soldering tools, etc.
Auto Mechanic Skills: I do the vast majority of the work on my truck and motorcycle including oil changes, clutch replacement, timing belt replacements, head gaskets, tire rotations, etc.
Chemistry and Math Skills
Titration
Massing samples
Mixing standard solutions
Various Instruments (HPLC, UV-Vis, NMR, etc.)
Geometry
Algebra & Trigonometry
Linear Algebra
Statistics*
Calculus
Curriculum Vitae
Degrees, Licenses, Awards, Memberships and Certifications
Bachelors of Science in Chemistry
Western Washington University
March 2010
Minor in Spanish
Associates of Science in Chemistry
Everett Community College
June 2007
American Chemical Society Member
Former Active Volunteer
Completed 13 ACS Leadership Courses
Private Pilot Certification
Airplane Single Engine Land
USPA C-License
First jump Feb 2006 | 304 skydives
FAA Certified Senior Parachute Rigger
Back & Seat Type Rated
PHP & SQL Certificate
Coursera
'Building a Dynamic Web App using PHP & MySQL'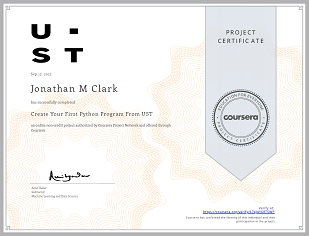 Python Certificate
Coursera
'Create Your First Python Project from UST'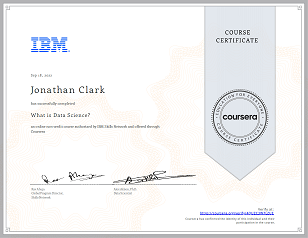 Data Science Certificate
Coursera
'What is Data Science?'
Recreational Interests
Some recreational pursuits of mine.
Skydiving
Good times! 304 skydives. Two demonstration jumps. USPA C-license. More than a decade in the sport. Also, FAA Senior Parachute Rigger (Back and Seat Rated). Home Drop Zone: Skydive Snohomish.
Indoor Skydiving
Home tunnel: iFLY Seattle. I love 4-way FS. 18+ hours total tunnel time. View my IBA profile here.
Hiking
I grew up in the foothills of the Cascade Mountains. I love the forest!
Cycling
I've put many miles on this bicycle. I like mountain biking.
Beekeeping
I kept bees for over a decade. There are few things tastier than honey from your own apiary (bee farm) on home baked bread! It is quite satisfying to watch a dozen worker bees peacefully and calmly crawl over your hand lapping up drops of honey!
Scuba Diving
I have a total of five dives under my belt and have the NAUI Open Water Scuba Diver certification. Drysuits are ideal for Pacific Northwest diving.
Kayaking
My favorite kayaking adventures include floating the Snohomish River and a sea kayaking tour in the San Juan Islands.
Motorcycling
Being on two wheels is fun! I put 38k+ miles on this 2006 Kawasaki Ninja 250 motorcycle.
Reading
I love to read books.